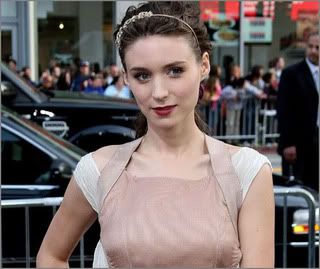 Sony Pictures has announced they have cast Rooney Mara in titular role from the globally popular series of books featuring the computer hacker by the name of Lisabeth Slander.  If you are asking, who is she? You may recognize her from earlier this year in the remake of "Nightmare on Elm Street".  If you are still asking who she is . . . congratulations, it means you have a life because no one saw that flameout.
Speculation has been rampant over who will take over role, with Scarlett Johansson once rumored to be up for the part.  The so-called "Millennium Trilogy", written by the late Swedish author Stieg Larssen has been an international sensation.  "Dragon Tattoo", "The Girl Who Played with Fire", and "The Girl Who Kicked the Hornet's Nest" have sold over forty million copies, with nearly eleven million of the books sold in America, where they all still occupy spots on the best-seller list. Swedish versions of the books have been filmed, the first two of which played to limited release here in the States this year.
Rooney Mara beat out a collection of other lightly known actresses, and she may have had an inside track at the casting.  She recently worked with "90-Take" Fincher in his latest film, "The Social Network", set to release this October.  Shooting on the film will begin this fall with a target release for Christmas 2011.  She will be joined with Stellan Starsgard, Robin Wright, and will star opposite Daniel Craig in the role of Mikael Blomkvist.  Here's hoping he goes with a better hair selection than he had years ago.