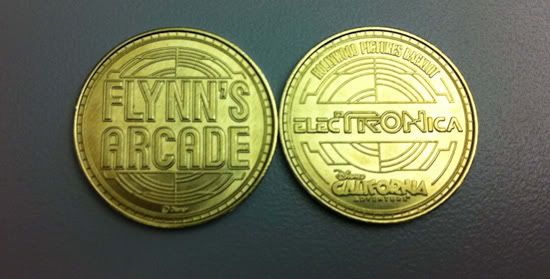 With two months and counting before Tron: Legacy hits movie theaters, NuketheFridge.com wants to let the fans take a byte out of some major rare movie swag that we just happen to have lying around.  We are giving away Tron: Legacy tokens.  These coins are red hot with collectors so don't miss out!
You may ask, how can I win four of these arcade tokens from Flynn's Arcade?  It's a quick and simple two-step process!
1.) Post a link to www.NuketheFridge.com on your Facebook wall. You can link a story you like or just the website in general.

2.) Email us at nukedthefridge@yahoo.com the link to your Facebook wall where you helped us pimp this website. Make sure to include your full name, mailing address, and a valid email address.
We will then randomly choose five winners from the entries we get.  The deadline for your entries is at 11:59 p.m. on Sunday, October 24, 2010.  The names of the winners will by posted sometime on the following day.  Also, winners will be contacted by email.  Only one entry and one prize per person per household are allowed.
Remember this classic piece of dialogue:

Master Control:  Get this clown trained.  I want him in the Games until he dies playing.  Acknowledge.
Sark:  Acknowledged, Master Control.

Master Control:  End of line.