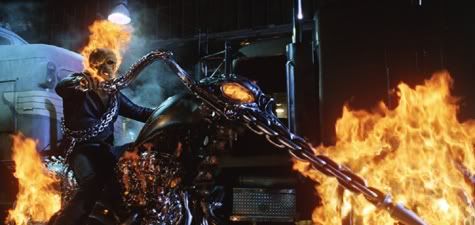 Marvel Comic's upcoming "Ghost Rider" superhero sequel, "Ghost Rider: Spirit of Vengeance" will feature an exorcism.  Character Johnny Blaze (Nicolas Cage) harbors the demonic alter ego Ghost Rider.  When sensing "evil" within the area, Blaze transforms into Ghost Rider, which is actually the demon Zatharos.
Cage discussed the exorcism in an interview (from Fear.net):
"There's an exorcism scene I just did where Johnny Blaze is being exorcized. And then I also play Ghost Rider, who's the spirit of Zarathos, who's a corrupted angel. So it's like completely different entities. The movie is not like anything I've done before. It's completely original. I think it's a really high adrenaline ride. And I think you'll see things in it that are mysterious as well."
The story takes place in Eastern Europe where Johnny Blaze is hiding out.  While there, he is summoned to stop the devil, who is trying to take human form.  Will the devil be Ghost Rider's nemesis Mephisto?
Currently shooting in Romania, "Ghost Rider: Spirit of Vengeance" will come screaming into theaters on February 17, 2012.  (Just shy of a year.)  The film stars Nicolas Cage, Idris Elba, Ciarán Hinds, Violante Placido, Christopher Lambert (rumored), Johnny Whitworth, and Fergus Riordan.  The story is by David S. Goyer (Superman: Man of Steel,) while Scott M. Gimple and Seth Hoffman wrote the screenplay. The film is co-directed by Mark Neveldine and Brian Taylor.
Sources: Fear.net, IMDB